This article originally appeared in The Domain Name Industry Brief (Volume 18, Issue 3)
Earlier this year, the Internet Engineering Task Force's (IETF's) Internet Engineering Steering Group (IESG) announced that several Proposed Standards related to the Registration Data Access Protocol (RDAP), including three that I co-authored, were being promoted to the prestigious designation of Internet Standard. Initially accepted as proposed standards six years ago, RFC 7480, RFC 7481, RFC 9082 and RFC 9083 now comprise the new Standard 95. RDAP allows users to access domain registration data and could one day replace its predecessor the WHOIS protocol. RDAP is designed to address some widely recognized deficiencies in the WHOIS protocol and can help improve the registration data chain of custody.
In the discussion that follows, I'll look back at the registry data model, given the evolution from WHOIS to the RDAP protocol, and examine how the RDAP protocol can help improve upon the more traditional, WHOIS-based registry models.
Registration Data Directory Services Evolution, Part 1: The WHOIS Protocol
In 1998, Network Solutions was responsible for providing both consumer-facing registrar and back-end registry functions for the legacy .com, .net and .org generic top-level domains (gTLDs). Network Solutions collected information from domain name registrants, used that information to process domain name registration requests, and published both collected data and data derived from processing registration requests (such as expiration dates and status values) in a public-facing directory service known as WHOIS.
From Network Solution's perspective as the registry, the chain of custody for domain name registration data involved only two parties: the registrant (or their agent) and Network Solutions. With the introduction of a Shared Registration System (SRS) in 1999, multiple registrars began to compete for domain name registration business by using the registry services operated by Network Solutions. The introduction of additional registrars and the separation of registry and registrar functions added parties to the chain of custody of domain name registration data. Information flowed from the registrant, to the registrar, and then to the registry, typically crossing multiple networks and jurisdictions, as depicted in Figure 1.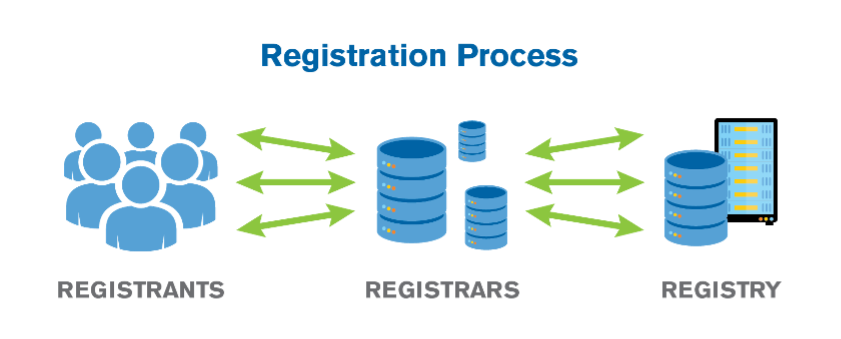 Registration Data Directory Services Evolution, Part 2: The RDAP Protocol
Over time, new gTLDs and new registries came into existence, new WHOIS services (with different output formats) were launched, and countries adopted new laws and regulations focused on protecting the personal information associated with domain name registration data. As time progressed, it became clear that WHOIS lacked several needed features, such as:
Standardized command structures
Output and error structures
Support for internationalization and localization
User identification
Authentication and access control
The IETF made multiple attempts to add features to WHOIS to address some of these issues, but none of them were widely adopted. A possible replacement protocol known as the Internet Registry Information Service (IRIS) was standardized in 2005, but it was not widely adopted. Something else was needed, and the IETF went back to work to produce what became known as RDAP.
RDAP was specified in a series of five IETF Proposed Standard RFC documents, including the following, all of which were published in March 2015:
Only when RDAP was standardized did we start to see broad deployment of a possible WHOIS successor by domain name registries, domain name registrars and address registries.
The broad deployment of RDAP led to RFCs 7480 and 7481 becoming Internet Standard RFCs (part of Internet Standard 95) without modification in March 2021. As operators of registration data directory services implemented and deployed RDAP, they found places in the other specifications where minor corrections and clarifications were needed without changing the protocol itself. RFC 7482 was updated to become Internet Standard RFC 9082, which was published in June 2021. RFC 7483 was updated to become Internet Standard RFC 9083, which was also published in June 2021. All were added to Standard 95. As of the writing of this article, RFC 7484 is in the process of being reviewed and updated for elevation to Internet Standard status.
RDAP Advantages
Operators of registration data directory services who implemented RDAP can take advantage of key features not available in the WHOIS protocol. I've highlighted some of these important features in the table below.
| | |
| --- | --- |
| RDAP Feature | Benefit |
| Standard, well-understood, and widely available HTTP transport | Relatively easy to implement, deploy and operate using common web service tools, infrastructure and applications. |
| Securable via HTTPS | Helps provide confidentiality for RDAP queries and responses, reducing the amount of information that is disclosed to monitors. |
| Structured output in JavaScript Object Notation (JSON) | JSON is well-understood and tool friendly, which makes it easier for clients to parse and format responses from all servers without the need for software that's customized for different service providers. |
| Easily extensible | Designed to support the addition of new features without breaking existing implementations. This makes it easier to address future function needs with less risk of implementation incompatibility. |
| Internationalized output, with full support for Unicode character sets | Allows implementations to provide human-readable inputs and outputs that are represented in a language appropriate to the local operating environment. |
| Referral capability, leveraging HTTP constructs | Provides information to software clients that allow the client to retrieve additional information from other RDAP servers. This can be used to hide complexity from human users. |
| Support of standardized authentication | RDAP can take full advantage of all of the client identification, authentication and authorization methods that are available to web services. This means that RDAP can be used to provide the basic framework for differentiated access to registration data based on attributes associated with the user and the user's query. |
Verisign and RDAP
Verisign's RDAP service, which was originally launched as an experimental implementation several years before gaining widespread adoption, allows users to look up records in the registry database for all registered .com, .net, .name, .cc and .tv domain names. It also supports Internationalized Domain Names (IDNs).
We at Verisign were pleased not only to see the IETF recognize the importance of RDAP by elevating it to an Internet Standard, but also that the protocol became a requirement for ICANN-accredited registrars and registries as of August 2019. Widespread implementation of the RDAP protocol makes registration data more secure, stable and resilient, and we are hopeful that the community will evolve the prescribed implementation of RDAP such that the full power of this rich protocol will be deployed.
You can learn more in the RDAP Help section of the Verisign website, and access helpful documents such as the RDAP technical implementation guide and the RDAP response profile.