Bitcoin, the crypto-currency that has captured the imaginations of technologists and economists around the world, has received a considerable amount of attention over the past couple of weeks.
Recently we have seen how domain name registrations tend to surge in the immediate aftermath of global phenomena. The rise of Bitcoin also presents an opportunity to track global interest and investment by way of .com and.net domain name registrations.
The value of a Bitcoin surged from roughly $13 at the beginning of 2013 to an eventual high of $1,137 at the end of November (The chart below, courtesy of Coinbase, documents the ebbs and flows of a Bitcoin's value).

Using the grapher tool in Verisign Domainview, we can track how often a particular keyword appears in .com and .net domain registrations over a period of time – a useful tool for identifying trends and gauging interest in subjects.
By doing a search of the word "bitcoin" for the past six months, it is fairly easy to see a correlation between the two Bitcoin price surges shown above and surges in domain name registrations including the term "bitcoin" in the grapher results below.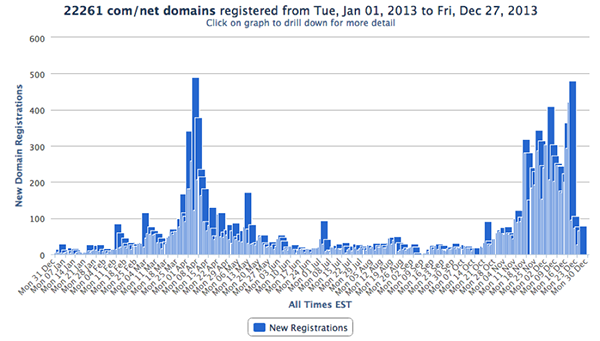 It is interesting to see that despite the relative modesty of the April price surge when compared to the November/December surge, daily registrations for both instances peaked at roughly the same number: 490 and 472 respectively. That being said the density of the two domain registration surges in the graph show that significantly more domains were registered as Bitcoin approached its all-time high.
Did you register any Bitcoin related domain names in 2013? Are you planning to register some in the new year? Let us know in the comments below!