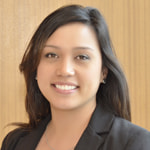 Lorraine Stickley is a senior marketing manager and content strategist at Verisign with more than 10 years of experience in corporate communications, digital marketing and social media. Her passion lies in telling a story, which she has done throughout her career helping companies in the technology, entertainment and education fields to increase audience engagement and build brand relevance.
At Verisign, Lorraine has played multiple roles within marketing. She first joined Verisign in 2012 as part of the internal communications team. In this role, her team's work on the "Powered by You" employee brand ambassador program won the International Association of Business Communicators 2014 Silver Quill Award of Merit. Lorraine's expertise in crafting engaging content led to her transition to the creative services function, working to produce campaign materials for global brand initiatives. In 2015, she moved to corporate communications, helping to develop a global content marketing strategy and assuming the role of corporate blog manager.
Prior to Verisign, Lorraine worked at ARIA Resort & Casino and Bellagio Resort & Casino in Las Vegas, managing employee communications and programming for more than 10,000 employees respectively. Her employee magazine, the CityCenter Insider, won Best Employee Publication from the American Gaming Association in 2010.
Lorraine earned her Bachelor of Arts degree from Beloit College, and holds a Master of Arts degree in Communications, specializing in Digital Media and Public Relations, from Johns Hopkins University.
---
Blog posts by Lorraine