Verisign outlined its vision for a revolutionary new approach to Distributed Denial of Service (DDoS) protection by announcing the availability of the Verisign OpenHybrid™ architecture, which helps organizations protect their critical assets and applications across distributed environments from DDoS attacks, using a single solution. By integrating intelligence from a customer's existing security defenses, Verisign OpenHybrid™ provides timely detection and restoration of services in the event of an attack, while providing increased visibility of DDoS threats across multiple environments such as private datacenters and public clouds.
In an earlier blog post on the topic, I noted the increasing scale and complexity of DDoS attacks, and the strong need for organizations to enable awareness and mitigation of attacks across on-premise devices, in addition to both public and private cloud environments using standards based open protocols.
Today we are pleased to announce two important updates in our path toward enabling open DDoS protection: the availability of Verisign OpenHybrid™ for Corero SmartWall TDS and Verisign OpenHybrid™ for customers hosted in the Amazon Web Services Elastic Compute Cloud.
As explained in January, Verisign outlined a three-phased approach to implementation of the Verisign OpenHybrid™ architecture: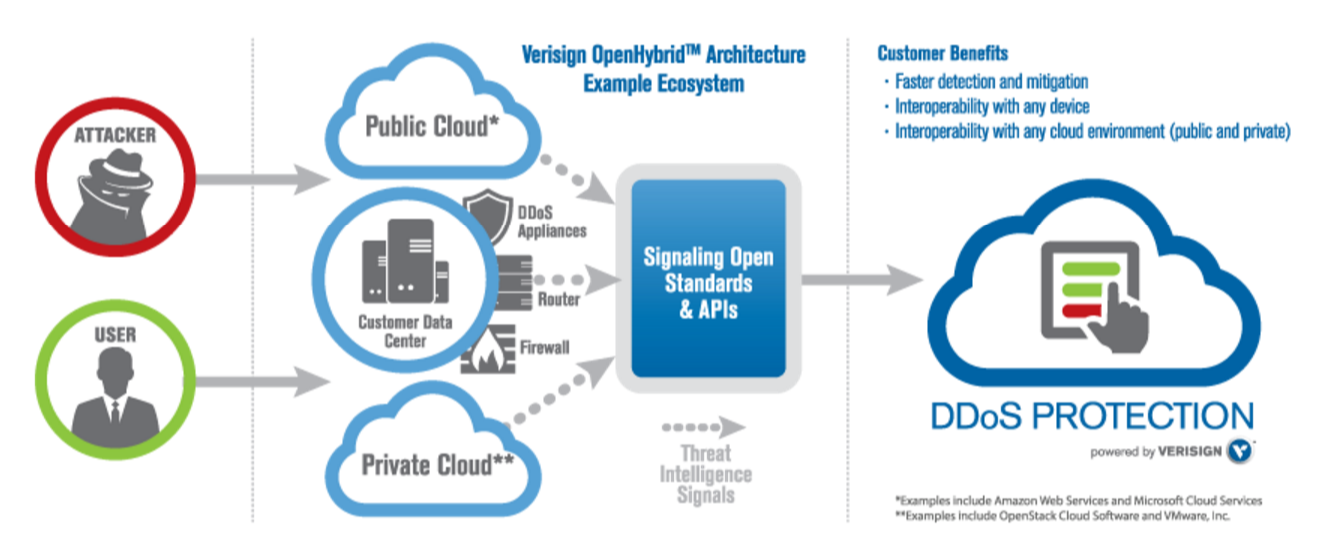 The first phase was incorporating the protocol into our DDoS Protection Services via an open cloud-signaling API. In addition to publishing the draft specification for our cloud API for open discussion at the Internet Engineering Task Force (IETF), Verisign recently participated in an IETF "Birds of a Feather" session to discuss our open standards approach with like-minded industry leaders. This effort highlights the commitment of Verisign and the broader community toward further development of these proposals toward becoming open standards.
Verisign OpenHybrid™ for Corero SmartWall TDS 
The second phase in implementing Verisign OpenHybrid™ involves enabling customers to integrate widely used security appliances with Verisign DDoS Protection Services.
To that end, we have made available the first of such integration – in this case with the Corero SmartWall TDS.
For Verisign and Corero customers, this integration combines on-premise technology from Corero Network Security to defeat sub-saturating DDoS attacks alongside cloud-based DDoS Protection Service from Verisign for high volume and complex application layer attacks that exceed the customer's network and resource capacity. Together, these solutions are designed to provide Internet-dependent organizations with scalable DDoS protection capabilities.
Verisign OpenHybrid™ for Amazon Web Services Elastic Compute Cloud 
The third phase previously outlined in the January blog entails enabling customers who are running applications in leading public clouds to better protect themselves against DDoS attacks using these open standards. Today I am pleased to report that Verisign has made the first of these integrations available, in this case for customers hosting applications in Amazon Web Services.
For organizations hosting their applications in the Amazon EC2 environment, Verisign DDoS Protection Service and the Verisign OpenHybrid™ architecture offer proactive threat monitoring and superior mitigation against DDoS attacks. Verisign leverages RESTful API-based signaling to monitor the health of organizations' AWS assets and delivers faster detection and mitigation of DDoS threats.
Corero SmartWall TDS and Amazon EC2  are just two of the many API integrations for popular devices and cloud environments that Verisign is planning to develop in support of the Verisign OpenHybrid™ architecture.
To learn more about Verisign OpenHybrid™, receive future updates or participate in open standards development, please
visit our website
for additional information.