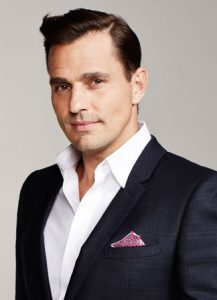 The buzz is in full swing around the#InternetOfficial contest celebrating 30 years of .com. We encourage you to register that new, original, memorable, and keyword-rich .com domain name you've been pondering and enter it into the contest for an opportunity to win up to $35,000. Don't procrastinate on registering your .com, because that's one thing businessman and motivational speaker Bill Rancic would tell you not to do! Did we mention Bill is one of the celebrity judges in our #InternetOfficial contest?
You may recognize Bill as the winner of the first season of NBC's "The Apprentice." Or maybe you recognize him from hosting "America Now," his reality series "Giuliana & Bill," or his various appearances on the "Today Show," "CBS New York" and "The View." In any case, Bill's got a business acumen and entrepreneurial spirit that's second to none, and he brings that expertise to our contest.
One might ask, "What is there that Bill Rancic doesn't do?" From motivational speaking to businesses and organizations across the world on entrepreneurship topics, to developing real estate in Chicago, to owning businesses, to producing and appearing in several television programs and becoming a New York Times best-selling author, to charitable activities, the list is endless.
You may not have known this, but Bill paid his way through college at Loyola University, graduating cum laude, by starting a boat wash and wax business in the Chicago area, proving that a great idea is the foundation of a good business.
Verisign is excited to have Bill join our panel of judges for the #InternetOfficial contest and help celebrate the 30th anniversary of .com. Follow Bill on his social networks – BillRancic.com, Twitter @BillRancic and Facebook – because you just might find the motivation to make your new, great idea #InternetOfficial by registering and entering a new .com domain name at VerisignInternetOfficial.com to kick off your own success story!
---
NO PURCHASE NECESSARY TO ENTER OR WIN. A PURCHASE OR PAYMENT OF ANY KIND WILL NOT INCREASE YOUR CHANCES OF WINNING. Legal residents of the 50 United States (D.C.), 18 years or older. Contest ends 6/23/15 and each monthly entry period is subject to a maximum of 70,000 submitted entries. To enter and for Official Rules, including prize descriptions and mail-in alternate method of entry, visithttp://bit.ly/verisignrules.  Void where prohibited.